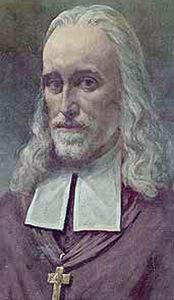 Oliver Plunkett was born on Nov 1st 1628 into a noble and wealthy family in Loughcrew Co. Meath. He studied for the priesthood in the Irish College, Rome and was ordained n 1654.
During the penal times he was appointed Archbishop of Armagh and Primate of Ireland. Oliver was a man of peace who courageously preached and worked for reconciliation knowing
that a price was on his head. He faithfully did what he was ordained to do. Falsely accused of treason, he suffered a martyr's death on 1st July, 1681.  With deep serenity of soul, he was prepared to die, calmly rebutting the charge of treason, refusing to save himself by giving false evidence against his brother bishops. Oliver Plunkett publicly forgave all those who were responsible for his death.  On October 12, 1975, he was canonized a saint. His feast day is July 1st.
We thank God for the work of peace and reconciliation achieved in our country, something that was so dear to the heart of this courageous saint.