Welcome to my Photo Album!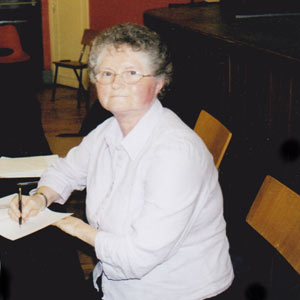 I'm delighted to share my treasured photographs with YOU through Clarecastle Community Development Ltd for their Heritage Project.
I hope they will evoke a happy "Memory Lane Trip" for all those portrayed, and that all others who view them will enjoy.
Ada Power, Clarecastle.
My receiving the prestigious "Bene Merenti" Papal Medal and Scroll from Bishop Willie Walsh and Fr. Harry Brady
Knock 1983 and Y.2000 when our Church Choir sang during the Killaloe Diocesan Pilgrimages; Knock 1999;
Singing for Confirmation Mass; "Look alike"; Bringing Infant Jesus to Crib during Midnight Mass; "Year of Faith Liturgy" 2012; Father Harry's Golden Jubilee Mass June 2013; accompanying Santa on his rounds of Cahercalla Nursing Home / Community Hospital 1980′s, 1990′s and 2000′s, at invitation of Matron and Chaplain.
Special moments for Legion of Mary volunteers at Daycare Centre: Visit of President Mary McAIeese in20O2, Santa's treat! 1Oth Anniversary Mass in Clare lnn 2009; Stained Glass Window depicting history of our Parish.
Confirmation Day 23d April 1958
Speech & Drama 1980′s,1990′s and 2000′s portraying events on stage, in my home for Hallowe'en and "Share Our World" days; "Living Crib" in Church during noon Mass on Christmas Day 1991-2004, and twice at "Dancing for Pleasure" in West County Hotel. We supported the Holy Rosary Sisters' Missions in Ethiopia and Kenya, via Sr. Mary Barry. Our fundraising events (annual Musical and Carol Singing) helped those less fortunate in Africa.
Photos of our 1″t Anniversary of "Victorious Missionaries" 1990: This is an organisation for people with disabilities and chronic illnesses, I went to their HQ, based at the Shrine of Our Lady of the Snows in Belleville, lllinois, USA, to research same in 1987 and 1988. Bishop Harty gave me permission to set up the 1″t Chapter in lreland. I visited again in 1994, this time accompanied by our Spiritual Director, Fr.Miceal Mclnerney for their 30ft Anniversary celebrations; and I went again in 2001.