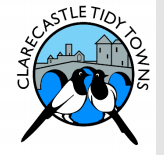 Clarecastle was awarded a Bronze Medal at the National Tidy Towns Awards Ceremony in Croke Park on Friday 6th October . This is the first medal awarded to Clarecastle in the National Tidy Towns Competition .  The National Competition is about whole of Community and a huge thanks to Clarecastle Tidy Towns and all the Volunteers from so many different Community groups and organisations in Clarecastle that have contributed to make this happen and a wonderful way to mark the 60th Anniversary of Clarecastle's first entry to the National Tidy Towns competition.
The  bronze medal places Clarecastle just 17 marks behind national winners Abbeyleix and the transformational changes that are visible in our streetscape open spaces and parks are reflected in the very impressive scoring in the national competition – Clarecastle Tidy Towns re-entered the national competition in 2011 scoring 250 marks and last Friday we were awarded the Bronze medal having scored 359 marks.  We extend a open invitation for more volunteers to come and join us and again as per every year we encourage other groups and organisations to keep us informed re projects that fall within the scope of the 8 Tidy  Towns categories with particular emphasis in  promoting  inclusive community activities, sustainability, Biodiversity and Climate action and special mention to Clarecastle Pastoral Council, Clarecastle GAA , Mens Shed and Playground for contribution projects to support  Clarecastle Tidy Towns & Heritage & Wildlife projects over the years . It is a collective community effort.
We encourage all to review the Adjudicators report  available online https://tidytowns-s3.s3.eu-west-1.amazonaws.com/u_reports/2023/clare/2023-Clare-Clarecastle-1082.pdf  and while we prepare for the 2024 report and work on the Clarecastle Five year plan as submitted in the annual report  we all need to review the comments  and address the issues raised .