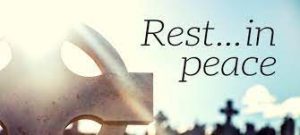 Blessing of Graves:  The annual blessing of graves in our cemeteries will take place during the month of November.  The following are the arrangements for the blessing of Graves:
Sunday 6th November 2022 –   Clarehill – 2pm, Killoo – 3.15pm
Sunday 13th November 2022–Graves in Clarecastle Church Grounds after 9am mass.  Ballyea after 10.30am mass.  Clareabbey 2pm        
Please advise people who are living outside of the Parish who may like to attend the blessing of graves of the above arrangements.