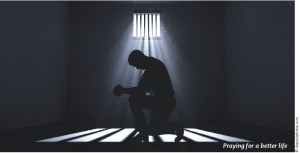 Prisoners are remembered in the Catholic Church on the second Sunday of November every year.
In the twelve prisons around the country, there are 4,200 men and women who are imprisoned.
In January 2022, Pope Francis issued a plea on behalf of prison inmates, saying they should never be deprived of hope and always be given the opportunity to redeem themselves. (https://www.irishexaminer.com/world/arid-40788660.html)
Currently in Limerick prison we have approximately 250 prisoners (220 men and 30 women) in our care.
Most come from the catchment area of counties Limerick, Clare, Tipperary, Offaly, Cork and Kerry.
As the Killaloe Diocese would have families affected by imprisonment.
Please also remember in your prayers the 20 prison chaplains across the 12 prisons in the country – it would be much appreciated.
For a Prisoner
Adapted from Benedictus (John O'Donohue) p.137
Though you have lost the outside world,
May you discover the untold journey
That awaits you in the inner world.
May you come to recognize
That though your body is imprisoned,
No one can imprison your mind.
May all the time you have on your hands
Bring you into new friendship with your mind
So that you learn to understand and integrate
The darkness that brought you here.
Within this limited space,
May you learn to harness
The stretch of time.
May your compassion awaken
May you learn to recover the self
You were before you lost your way
And draw from its depths
Some balm to heal your wounds.
Behind the rhythms of prison life
May you find a friend you can talk to
And nurture the natural kindness
To become more free in your heart
And lighten the outer constraints.
May your eyes look up and find
The bright line of an inner horizon
That will ground and encourage you
For that day when your new feet
Will step out onto the pastures of freedom.